About Rochkind Insurance​
With a passion for insurance, Rochkind Insurance has been your friend and neighbor in Galveston Insurance since 1987. Today, the Rochkind family insurance business continues to provide the highest quality of service, products, and value to individuals, families, and businesses in the greater Galveston and Houston areas.
Hal Rochkind is a 4th generation Galvestonian (BOI) and son of the founder, Barry Rochkind. Hal didn't jump into the family business immediately. After graduating from UT Austin, Hal worked for National Western Life in Austin, TX. After two years in the NWL home office, Hal was recruited by Moody Insurance Group in Galveston to work as their National Marketing Director for life insurance and annuities. During his time at Moody Insurance Group Hal met with the Puerto Rican Government and advised them on annuity options to better their financial position. In 2009, Hal joined the family business to continue his father's legacy by offering modern insurance solutions and a personal touch that is lost with larger insurance corporations.
When asked why life insurance is essential, Hal will explain, "Your biggest asset is your ability to produce income. If you had an ATM in your garage that kicked out $2500 every month, would you want to insure it? Of course. That's the same as your ability to produce income. Protect your family's financial future with life insurance."
In addition to running Rochkind Insurance, Hal serves and has served on the boards of many organizations focused on helping the Galveston Community, including, Galveston Island Meals on Wheels, Galveston ISD Educational Foundation, Galveston Historical Foundation, Rotary Club of Galveston Island, United Way of Galveston, The Knights of Momus, and Child Advocacy Center of Galveston County amongst others. Hal was recently awarded the Isaiah Star Bright Award for excellent leadership from Galveston Island Meals on Wheels. Also, he was awarded the Paul Harris Fellow award from the Rotary Club and was Rotarian of the Year in 2014.
Hal enjoys spending time with his wife Jessica and their son Wilder.  He is a huge sports fan, like his father, and plays 2nd base on a local Baseball team, The Gulf Coast Sugar.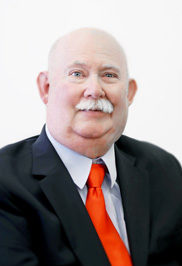 Barry Rochkind is the founder of Rochkind Insurance. Originally from Houston, Barry is a graduate of Bellaire High School and eventually received his undergraduate from UT El Paso (Go Miners!). He moved to Galveston in 1978 and met the love of his life, Franie Clark. They married and worked together in her family jewelry store, Isenberg's, which at the time was "the place" to buy jewelry in south Texas. 
In 1984, Barry and Franie opened their own jewelry store and appropriately named it Franie's.  As the high-end jewelry and gift market was declining, Barry started selling insurance part-time. Then the part-time job turned into something substantial, Barry and Franie closed the jewelry store and opened Rochkind Insurance in 1987. Three years later, in Sept of 1990, Barry Rochkind received the high insurance designation of LUTCF (Life Underwriter Training Council Fellow).  The Rochkind Insurance mission then and now is to maintain a family business that gives professional service with a personal touch. 
To know Barry Rochkind is to know his love of sports. In 1967, he was a batboy for the Houston Astros.  The bats pictured at the top of this page are some of the discarded bats that he collected as a bat boy. In addition to this magnificent experience, Barry had a 10-year stint as the Galveston sports reporter on AM 1540 KGBC, Monday thru Friday, for 10 minutes each morning.  So when you see Barry don't forget to say, "Go Stros!"
Tammy Kimsey has been with Rochkind Insurance since the beginning of 2010 and spent five years with another insurance agency before joining Rochkind Insurance. Before her insurance experience, Ms. Kimsey spent five years with Moody National Bank in South Shore Harbor. Ms. Kimsey currently holds a property & casualty insurance license through the State of Texas.
Tammy is a native of League City where she attended Clear Creek High School and now resides in Texas City with her husband and son. When not at work, she enjoys spending time with her family and watching her son play baseball.
When I was recently buying a new house I gave several agencies the opportunity to "win" my business… Needless to say, Rochkind Insurance was the winner. I closed on my house three weeks ago and I stilled haven't heard from the other agents, other than their intital quote… Hal and Tammy followed through like no other agency!