About Rochkind Insurance​
With a passion for helping others, Rochkind Insurance has been your friend and neighbor in Galveston Insurance since 1987. Today, the Rochkind family insurance business continues to provide the highest quality of service, products, and value to individuals, families, and businesses in the greater Galveston and Houston areas.
Hal Rochkind is a 4th generation Galvestonian (BOI) and son of the founder, Barry Rochkind. Hal didn't jump into the family business immediately. After graduating from UT Austin, Hal worked for National Western Life in Austin, TX. After two years in the NWL home office, Hal was recruited by Moody Insurance Group in Galveston to work as their National Marketing Director for life insurance and annuities. During his time at Moody Insurance Group Hal met with the Puerto Rican Government and advised them on annuity options to better their financial position. In 2009, Hal joined the family business to continue his father's legacy by offering modern insurance solutions and a personal touch that is lost with larger insurance corporations.
When asked why life insurance is essential, Hal will explain, "Your biggest asset is your ability to produce income. If you had an ATM in your garage that kicked out $2500 every month, would you want to insure it? Of course. That's the same as your ability to produce income. Protect your family's financial future with life insurance."
In addition to running Rochkind Insurance, Hal serves and has served on the boards of many organizations focused on helping the Galveston Community, including, Galveston Island Meals on Wheels, Galveston ISD Educational Foundation, Galveston Historical Foundation, Rotary Club of Galveston Island, United Way of Galveston, The Knights of Momus, and Child Advocacy Center of Galveston County amongst others. Hal was recently awarded the Isaiah Star Bright Award for excellent leadership from Galveston Island Meals on Wheels. Also, he was awarded the Paul Harris Fellow award from the Rotary Club and was Rotarian of the Year in 2014.
Hal enjoys spending time with his wife Jessica and their two sons Wilder and Hayes. He is a huge sports fan, like his father, and plays 2nd base on a local Baseball team, The Gulf Coast Sugar.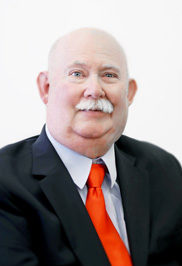 Barry Rochkind is the founder of Rochkind Insurance. Originally from Houston, Barry is a graduate of Bellaire High School and eventually received his undergraduate from UT El Paso (Go Miners!). He moved to Galveston in 1978 and met the love of his life, Franie Clark. They married and worked together in her family jewelry store, Isenberg's, which at the time was "the place" to buy jewelry in south Texas. 
In 1984, Barry and Franie opened their own jewelry store and appropriately named it Franie's.  As the high-end jewelry and gift market was declining, Barry started selling insurance part-time. Then the part-time job turned into something substantial, Barry and Franie closed the jewelry store and opened Rochkind Insurance in 1987. Three years later, in Sept of 1990, Barry Rochkind received the high insurance designation of LUTCF (Life Underwriter Training Council Fellow).  The Rochkind Insurance mission then and now is to maintain a family business that gives professional service with a personal touch. 
To know Barry Rochkind is to know his love of sports. In 1967, he was a batboy for the Houston Astros.  The bats pictured at the top of this page are some of the discarded bats that he collected as a bat boy. In addition to this magnificent experience, Barry had a 10-year stint as the Galveston sports reporter on AM 1540 KGBC, Monday thru Friday, for 10 minutes each morning.  So when you see Barry don't forget to say, "Go Stros!"
Tammy Kimsey has been in the insurance business for the past 18 years, joining Rochkind Insurance in 2010. Ms. Kimsey currently holds a property & casualty insurance license through the State of Texas and continues to improve herself through continuing education from multiple carriers and State agencies. 
Since Tammy is always on top of her game, she uses that expertise to train staff – keeping "The Rochkind Insurance Team" up-to-date and always ready to assist clients with the best insurance solutions available.
Tammy specializes in homeowners, flood, and windstorm and some commercial insurance. If you ask what the best part of her job is, "Definitely, helping people. There are always new opportunities. I love helping current and new clients find the coverage they need for the best and lowest premium we can offer. "
Tammy is a native of League City, where she attended Clear Creek High School, and currently lives in Texas City with her husband and son. When not at work, she enjoys spending time and traveling with family and friends. As a part of her dedication to community service, Tammy is a member of the Rotary Club of Galveston and serves on the Rodeo Contestant Services Committee of the Houston Livestock Show and Rodeo.
Amanda Rivera is licensed in Life Insurance, Health, Long Term Care, and Disability Income insurance. Before her insurance experience, she was the Assistant Registrar for Alvin High School, where she assisted the Lead Registrar in organizing and inputting student information. 
Amanda is an effective communicator and excellent organizer, which is why she enjoys working with Rochkind Insurance. She appreciates the family-oriented atmosphere and enjoys helping clients with their questions and claims. "I'm learning something new every day. We are on the front lines for client inquiries, and it is rewarding to find the answers." 
Amanda was born in Galveston and raised in Santa Fe. She graduated from Santa Fe High School and lives in La Marque with her family. Amanda is passionate about singing and collaborating with her brother in making music with the hope to impact many generations in a loving and positive way. 
Jennifer "Jen" Fox joins the Rochkind team with over ten years of office management experience. Her transition from Houston commuter to Rochkind Insurance, Licensed CSR has been a welcome addition. Jennifer has a fantastic team spirit and delivers exceptional customer service with ease. Ms. Fox currently holds a property & casualty insurance license through the State of Texas.
A Fort Worth native, growing up, her family would visit Galveston every summer, and she would always say, " I'm going to move there someday." Many years later, at 41, she decided it was time to leap. Galveston has delivered in spades! Proud to have made lifelong friends, Jennifer and her family love the community. In addition to being a founding member of the Galveston Golf Cart Association, she loves volunteering to the VFW and many other events and fundraisers for the Galveston community throughout the year.
Jen is happily married and has two grown daughters who live in the Dallas area.
MORE THAN SEVEN DECADES AGO, Marc A. Weiss was born and raised on Galveston Island (a very proud BOI). Weiss returned to his beloved hometown in mid-2016 after living in the Austin area as a business owner for sixteen and a half years.
As a current member of the Rochkind Insurance Team, Marc feels like he's working with a wonderful family – literally and figuratively.
Although knowing his Rochkind "work family" for a relatively short time, Weiss joyfully watched Hal Rochkind and his siblings grow up with Weiss' children from the time the kids were born. And Marc is so fortunate to have been close friends with Franie Rochkind since their early childhood.
After decades of dedication to community service, Weiss is back and fully involved in Island Life. Marc joyfully adds, "Please call one of your incredible Rochkind Team members or me so that we may assist you with all your insurance needs…We've Gotcha Covered!" 
Hillery Watkins joined Rochkind Insurance in September of 2022 as a Customer Service Specialist. She joined the team with a background in insurance, office management and worked in the healthcare industry. After becoming an empty nester, Hillery moved to the island from Fort Smith, Arkansas.
"Galveston has quickly become my home, and Rochkind co-workers have become family. I couldn't have dreamed of a better group of people to work with." Hillery loves everything about the island and attends as many community events as possible. She has fully embraced "Island Time," and her only regret is not moving here sooner!
Jen Pearson joined the Rochkind team in 2019 as a Marketing Management Consultant. An eternal optimist, Jen enjoys working to ensure that Rochkind Insurance is celebrated as the first and best choice when a new client needs insurance throughout Houston and Galveston.
Jen has over 15 years of Executive Marketing experience, but an essential starting point for Marketing is a great product; experience can only get you so far. Marketing a company or product is easiest when the team working there is supportive and driven; the camaraderie at Rochkind Insurance can't be beat. Have an idea that you want to share? Don't hesitate to reach out to Jen!
In her spare time, you may find her teaching yoga at the beach, playing tennis, cooking, or throwing the ball to her beloved dog, Jackson!
When I was recently buying a new house I gave several agencies the opportunity to "win" my business… Needless to say, Rochkind Insurance was the winner. I closed on my house three weeks ago and I stilled haven't heard from the other agents, other than their intital quote… Hal and Tammy followed through like no other agency!